A child without education is like a bird without wings. So that every child should have an equal opportunity for learning and holistic education.  To give the kids proper education we make our maximum efforts to support them.
           Sponsorship is a process that fulfills the totality of the children's needs, which not only addresses the child's immediate physical needs but also fulfills the educational, medical, nutritional, and other needs of the children with the view of improving the quality of life. It is financial assistance that enables children to continue their education, who are in danger of removing from school and sent to work.
            Neshna Trust in collaboration with its partners is supporting the study of many girls and boys, especially girl children. Till date, we are sponsoring 10 girls and 1 boy.
PROCESS OF SELECTION OF THE SPONSORING KIDS
            Our project in charge surveys all our child reformation centers and identifies the poorest and bright students and enrolls them in the program.
            From the child reformation centers, 30 kids are selected and among them, we are sponsoring 11 kids based on our fund availability. We are sponsoring them from primary school education to the university until they are financially independent.
           Our goal is to provide education to the maximum number of kids and to give them the wealth of life.
ELIGIBILITY CRITERIA FOR SPONSORING KIDS
The parent of the child should be a citizen of India.
The parent should not be in a position to provide basic needs for their children; the kid should be below the poverty line and brighter.
The parents and the kid should not have any criminal record, be imprisoned, bankrupt, or be charged with any offense
They should secure first class throughout their education period
The sponsoring kids should learn the following:

Yoga,
Meditation
Attend Leadership programs and seminars
Attend for Personal development
Should plant a minimum of 1 Plant/ month given by our trust and to take care of it.
           All the above activities are to enhance the physical, mental, and spiritual well-being of the kids. It increases self-confidence and teaches how to communicate and display themselves and helps in self-development which improves honesty and transparency.
After completing secondary school they should be part of a charity and serve humanity.
Sponsoring kids should not have direct access to the donor, it should be via the proper channel. 
                                      Here are the stories of our sponsored kids
VANI THIRAMSETTY – WANTS TO BE A FUTURE ACTOR
Vani studies 6
th
 standard in Nandalagunta village 10 km from Nellore. Her father works in the fields and earns a meager income, she has one more elder sister seema who is in grade 7. They live in a house given by the government. Vani loves reciting poems in Telugu and learns things by heart very fast. She loves acting and like watching movies.
Vani's love for acting turns into a dream of acting. Now she wants to be a Tollywood actress and a celebrity. "My favorite actor is Kriti Shetty, "says Vani. At the age of 17 years, krithi becomes one of the best Telugu actresses, I like her way of acting and she is my inspiration and role model "added Vani.
"I performed in a dance competition held in our school during annual day celebrations and performed the role of Jhansi Lakshmi Bai – a great freedom fighter. The great round of applause that I received on that from the students, teachers, and the staff of the whole school was remarkable, which made my dream stronger and stronger "she added.
Although she aspires to be an actress, her family has no sufficient funds to support her education and dream. At that period, Neshna Trust's consortium team  – with a help of Ms. Annamaria Rocca people took responsibility and joined her in the school, educating her and supporting her dream of actress.
Vani says " Ms. Annamaria Rocca gave wings to my dreams, I and my parents are grateful to her, Strada dei putei, and Neshna Trust's consortium team.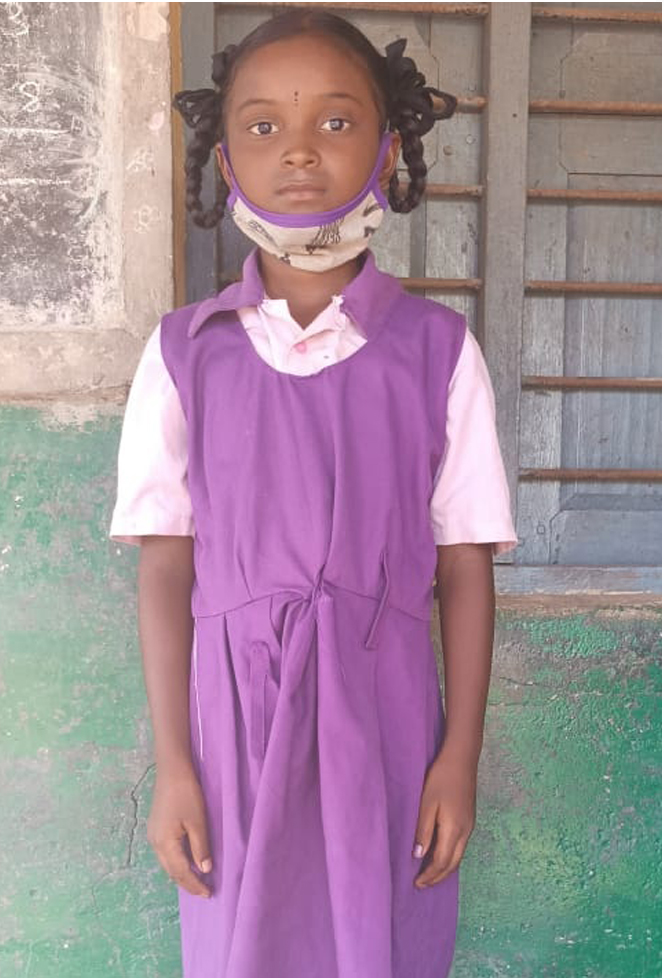 SANGEETHA YAHASIRI– WANTS TO PURSUE HER CARRIER AS A DANCE TEACHER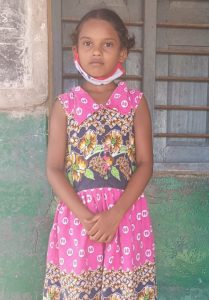 Dance, the movement of the body in a rhythmic way, usually to music and within a given space " is my passion says Sangeetha.
            Sangeetha is an enthusiastic kid from nandalagunta village 10 km from Nellore. Her father works in a nearby factory and her mother is a domestic helper, they have no constant income. But Sangeetha aspires to become a dance teacher.
            She says " I love music and dance and in my perspective dance heals all the sorrows and tensions of life ". I saw the helpless cries of my parents, I want to make them come out of that situation and want them to lead the happiest life.
            She wants to teach dance to every kid like her with the aspiration towards dance and cannot able to learn it due to their financial situation. But her parents are not in a situation to afford her studies and dance classes. At that time, Neshna Trust's consortium team came to know about her and supported her mentally and financially to continue her education and achieve her dreams with the help of Ms.Vitulo Maria She and her parents are thanking Ms.Vitulo Maria, Strada Dei putei, wholeheartedly for making her life as she dreams. "
AMMANNI EEGA– AN ASPIRING PILOT WANTS TO HER MOTHER PROUD
Ammanni Eega is from Nandalagunta village , Nellore District. Her father works as a Daily wage- Labourer in a nearby factory and earns a meager income and her mother is a housewife and lives in a small house. Ammanni wants to become a pilot and fly in the sky. She is more fascinated by how tiny the world might look when you fly at heights, where no traffic can stop you.
          She says, whenever I see an aircraft I always think that the people who fly in this are really lucky. I always desired to sit in the cockpit and drive the grand plane. I want to bring my imagination into reality so I decided to become a pilot. I believe that nothing in this world is impossible if you work hard for it.
          Ammani is the only child, but due to the stigma about the girl child, her parents plan for future children. But their income doesn't allow them to educate her. By knowing this good–hearted people of the Neshna Trust consortium team, with the help of Mr.Eleuterio Schippa are educating her and giving wings for her dream of flying. She says that" she and her family are more grateful towards the educational requirement provided by Mr.Eleuterio Schippa "and wants to be part of the NGO after she succeeds in her life.
We wish Ammanni should fly into the great heights of the sky.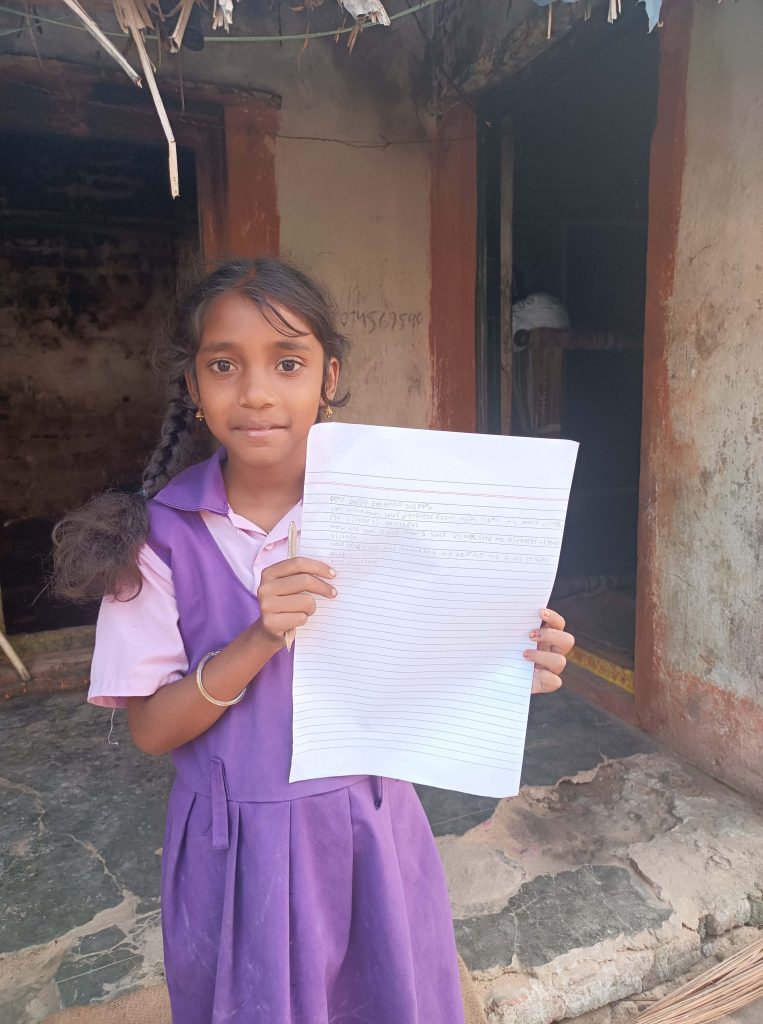 NAGAMANI
GANDALA

- DESIRING TO BE AN ARTIST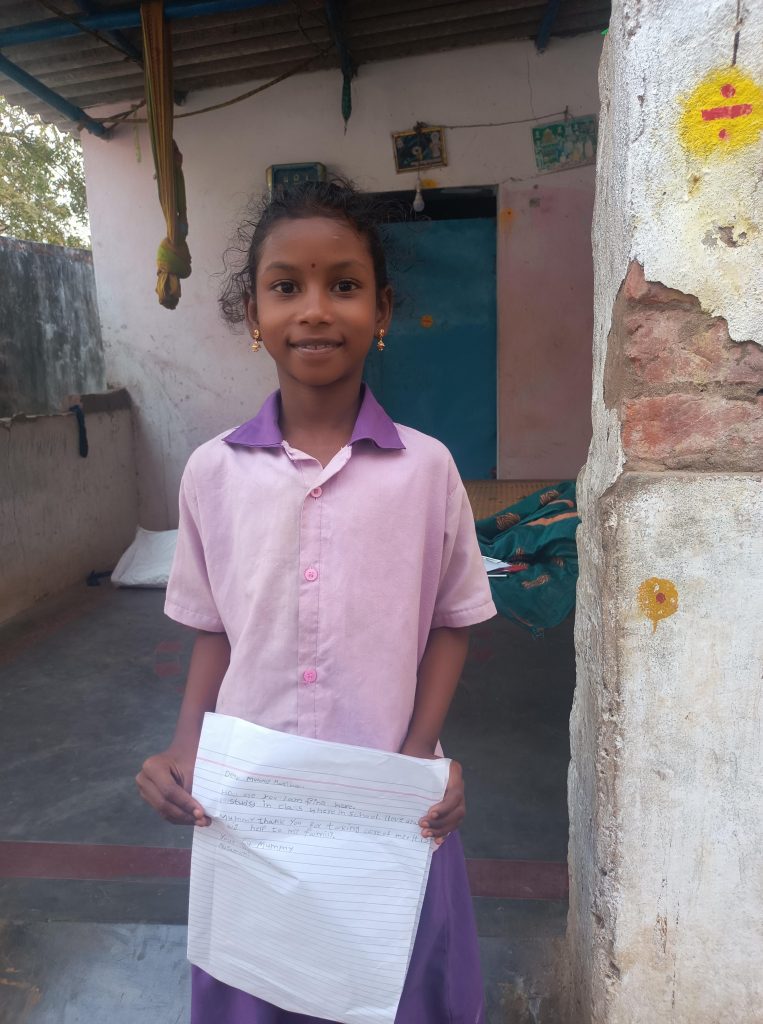 Hello all, I'Nagamani Gandala from Nanadalgunta village, Nellore, Andhra Pradesh.
Firstly I need to thank Ms.Marika for her support in building my carrier.
I was born into a poor economic family, my father works in a nearby factory and my mother is a homemaker, we live in a small house given by the government. My father's income is not sufficient to run a family and to my support the education of Two daughters. Sometimes it is difficult for us to get one meal a day.
I love reading books and am good at drawing. One day on the way to my uncle's home, I saw an Artist and his beautiful paintings. My interest in the field was exaggerated. Initially, I thought that painting is just putting a pencil or brush on paper or canvas. After a keen interest in becoming an artist, I started working on it.
But due to my family's poverty, they are not in a situation to support my education and my aim of becoming an artist. At that moment, Ms. Marika has taken my responsibility and funded my education, and achieved my goals. They are providing me with everything necessary to become an artist.
Thanking Team of Neshna Trust's consortium team  and Strada dei Putei for their Continuous support
POOJYA LIDVITHA NELLORU – AN AMBITION OF ENGINEERING
 Namaskaram, I'm poojya Lidvitha from kovur village , Nellore. My father Nellore Venkata seshaiah is a driver in a private hospital and my mother is a domestic helper. I am having a younger brother of age 4 years. We lived in a thatched house
          I want to be an engineer when I grow up. Engineering is the field that designs and implements solutions to everyday problems. Engineers have completely changed the world that we live in, from modern homes to modern mobile technology. Innovative ideas are at the heart of what engineers do and I want to discover some old machine that can clean every corner of the vehicle and want to reduce my father's stress of cleaning it every day. I also want to support my family financially along with gaining knowledge.
           But my parents are financially unstable to help to pursue my carrier goals. As we are two kids, my father wants my brother to study and me to stay at home with the perception that girls don't want to study.
           Fortunately, Carla( Gruppo ll Tesoro Nelle Mani) is sponsoring my education, and books and joined me in one of the high-standard schools ( Ratnam Educational institutions)
          Thanking Carla( Gruppo ll Tesoro Nelle Mani), Strada dei Putei, and  Neshna Trust's consortium team for supporting my dream to live.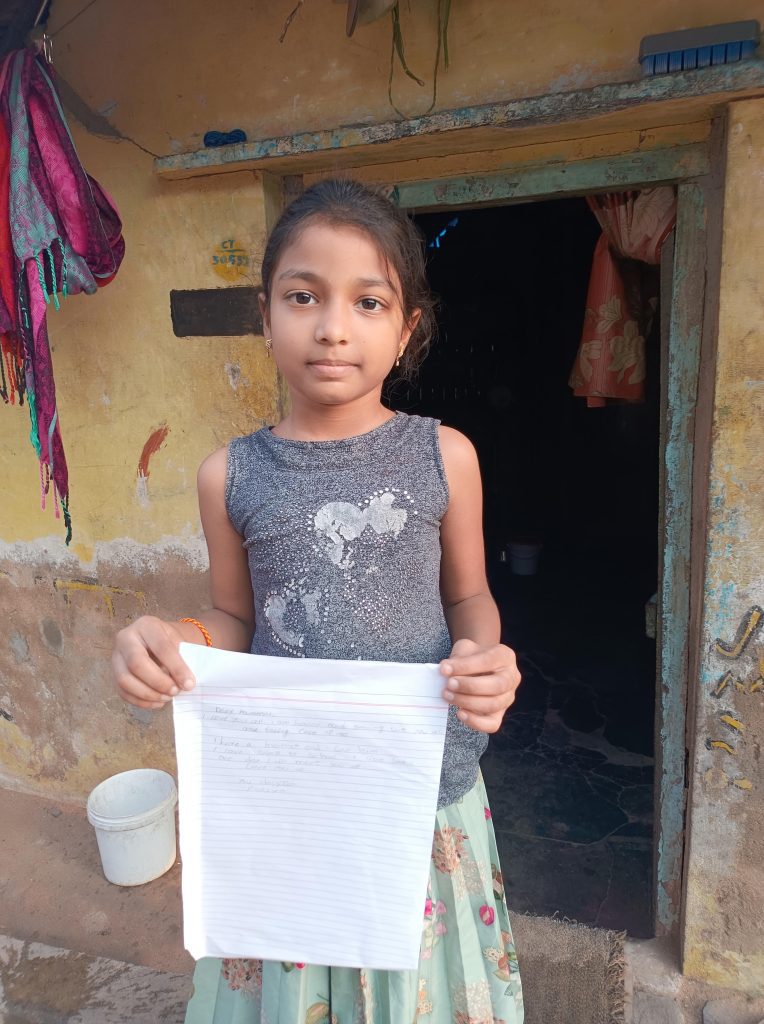 AANANDA KANESHKAA - DOCTOR IS MY PASSION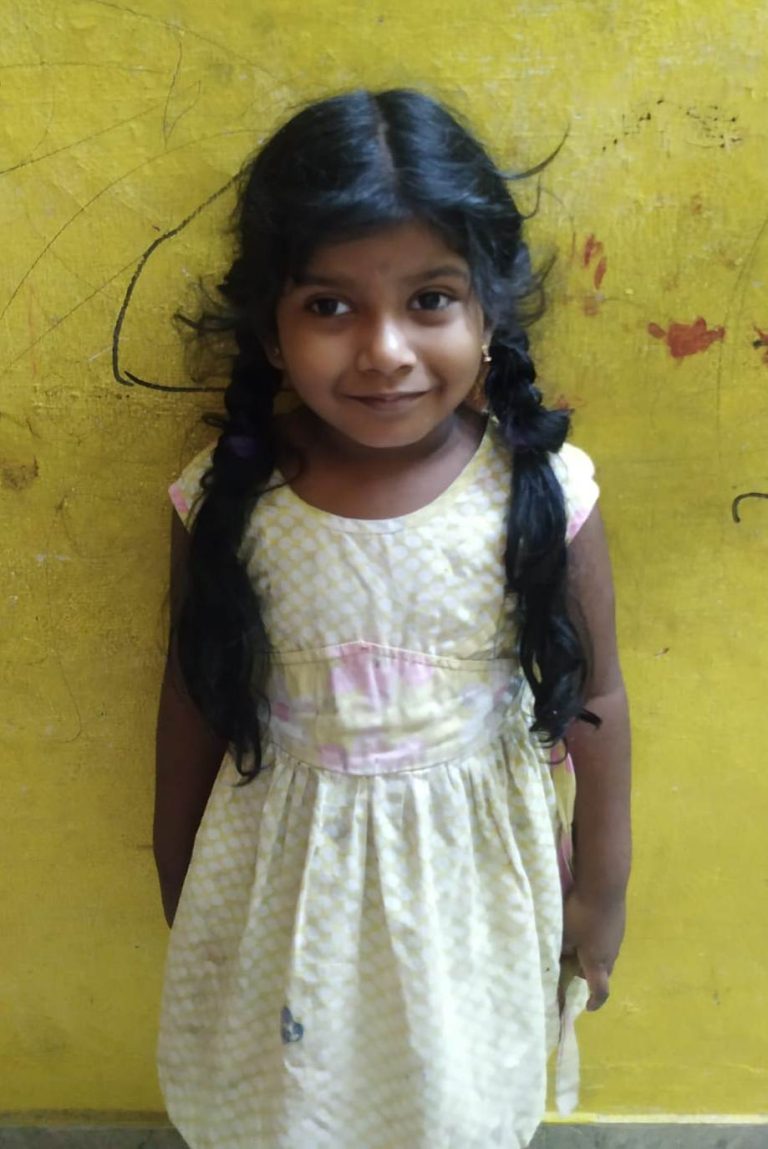 Ananda Kaneshkaa is a single daughter in her family from Alagiri Nagar in Chennai. Her father and mother passed away recently due to a heart attack, Present Mr.Radha Krishna is the guardian of this child but he is a single person as she is a girl, and she stays in Chennai under the care of Mrs.parameswari.
"Becoming a doctor is my passion and ambition ", she says.
She added "My parents died due to lack of awareness of heart diseases", I want to become a doctor and regardless of economic status, everyone is having right to receive the proper medical treatment and I will bring awareness among people regarding the diseases ".
Although, her ambition sounds like everyone the journey isn't like others. But the question rises why should not help her in achieving her goal? The child needs our support and equal opportunity to explore her ambition and be an achiever. As she was alone and her guardian is not in a situation to make her studies continue. "Neshna Trust's consortium team  with the help of  Ms. Annamaria Rocca And Strada Dei Putei have taken responsibility and helped her in studying and  achieving her goal."
We wish her a bright future for Kanshika and aim of achieving her dream.
RAMACHARAN- OF NELLORE DREAMS TO BE A ELECTRICAL ENGINEER
Ramacharan a student studying polytechnic wants to be an electrical engineer. He says that " From my childhood, there are many power issues in my home and I can't able to study at the time that I want. My parents used to call the electrician every time and we were awaiting for him. From that, I am motivated that if I know the work, there is no need of waiting for others and it can be resolved by myself so that my parent's stress will be reduced, that is time I decided to be an electrical engineer ."
As everyone is going in a good way suddenly his father passed away during his …standard, as his mother is a housewife and they don't have proper income to continue his education. Dr.Veeramma a kind–hearted woman came to know about that incident and started sponsoring the child with the help of Neshna Trust's consortium team.
Ramcharan says that " Dr. Ch . Veeramma and Neshna Trust's consortium team helped him a lot in the periods of Hardship and he was thankful to them ".
We aspire for Ramcharan to be a good engineer and to support his family.
SOWMYA – DREAMS OF BECOMING A DOCTOR
"Doctor is my passion and I love it ", says the school topper. Sowmya an intelligent and talented girl from Nellore aims of becoming a doctor during her childhood. She is the one who wants to be the first doctor in her family.
Sowmya is more interested in science since primary school and always scores higher marks in that. Her grandparents are suffering from chronic diseases and she used to see that they are using several tablets every day, but they are not following any dietary measurements and sometimes they used to through into the dustbin if no one was observing, she thought that all these was happening due to the lack of awareness regarding the diseases and she also noticed that most of her parent's income was spent on their treatment. Then she aspires of becoming a doctor and wants to serve free for needy people and create awareness among them.
During that moment, her father passed away and she went into the world of darkness. Dr.Veeramma came to know about her, motivated her, and support her in pursuing their goal of becoming a doctor.
She says that " Dr.Ch.Veeramma is my role- model and I am very grateful to be studying with her sponsorship and iam also thanking Neshna Trust's consortium team for their support ".