Green Wall
Coastal Resources are of much help to mankind. Ecosystems of coastal resources have specific impacts on human life. So that we have designed one of the most unique and innovative ideas of the "Green Wall" Project which acts like a "BIOFENCE", that deals with the prevention of coastal erosion by Palmyra covers and other forms of plantation all along coastal India.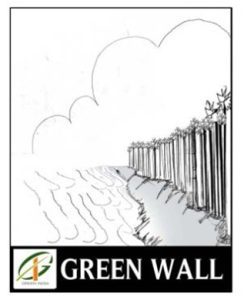 The "Green Wall" Project of Green India  Trust establishes systematic management of the plantation ecosystem and plays the role of an active agent for the plantation of the Palmyra covers, Palmyra conservation, and restoration to secure valuable coastal resources. 
        The increase in the Palmyra area will help to reduce the damage caused by heavy rainfall and floods and to the coastal community by way of easy access to fuel wood and small timber requirement through sustainable harvesting. Since there will be a community-based approach, the community will feel that owning the Project and the Concept will be sustainable in the long run.
OBJECTIVES OF GREEN WALL :
Selection and identification of quality seeds and seedlings.
Identification of  an area to Plant Palmyra Seeds near the coastal region to make a thick  forest near the coastal area
Organizing and plantation of palm seeds.
To educate the people about the plantation, and how it will be useful to future generations.
To discuss with the traditional leader of the coastal community regarding the protection of plants, so they made a traditional method of propaganda named " DURAI" through that they deliver the message that the people of that community should protect the plants that have been planted.
Green Wall Project Design:
Plantation of Green Wall is as follows from the big tidal region:
| | |
| --- | --- |
| Palmyra Trees in triangle method between bamboo Trees 25 | 25 mts. |
| Bamboo Trees | 275 mts. |
| Casuarina Trees | 100 mts. |
| Mangrove Trees | 100 mts |
| Total | 500 mts |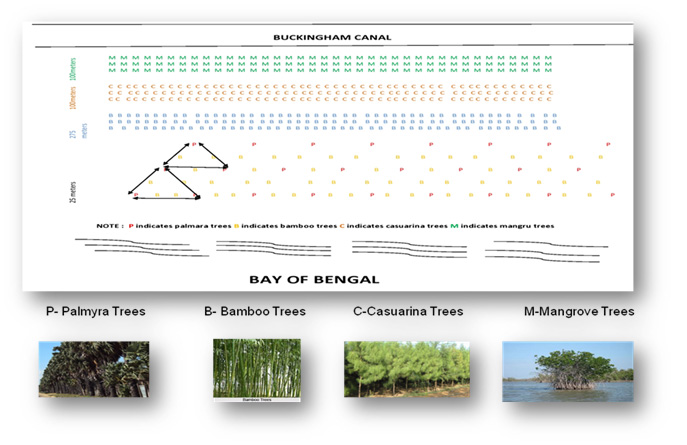 Initially, Palmyra trees are planted according to the forest rule Coastal regulation zone (CRZ) and after three years bamboo, casuarina, and Mangroves trees were planted as below in a triangular manner.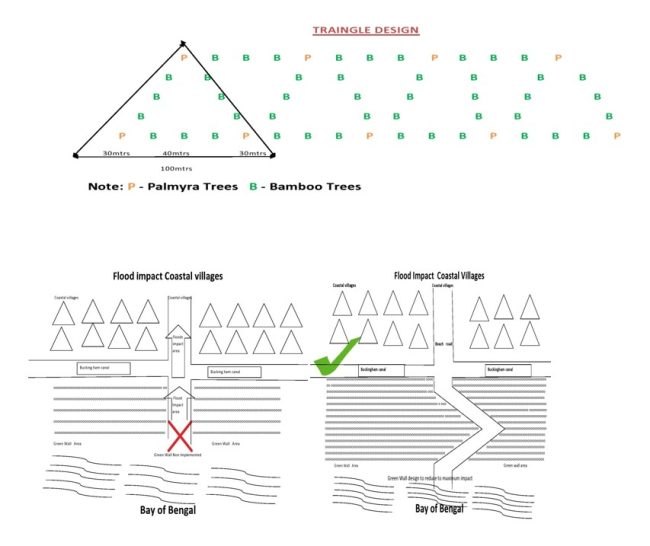 PHASES OF IMPLEMENTATION OF GREEN WALL:
Phase I: started on 17-09-2011.
Planted Four lakhs Palmyra trees along the coastal belt of the Bay of Bengal from Krishnapatnam Port to Mypadu for a distance of 30 Km. in SPSR Nellore district, Andhra Pradesh, India.
Phase II: Started on 3-10-2015
Planted Nineteen lakhs Twenty-Five Thousand (19,25000) seeds along the coastal belt of Krishnapatnam (Nellore District ) to the Border of Guntur District for a distance of 270km in Andhra Pradesh and achieved  India Book of Record.
Phase III: Started on October 2016
Planted ….. seeds along the coastal belt of Kanyakumari ( Tamil Nadu ) to Digha ( West Bengal ) for an extent of 2200 Km at the coastal area of the Bay of Bengal as of December 2022 and is still continuing.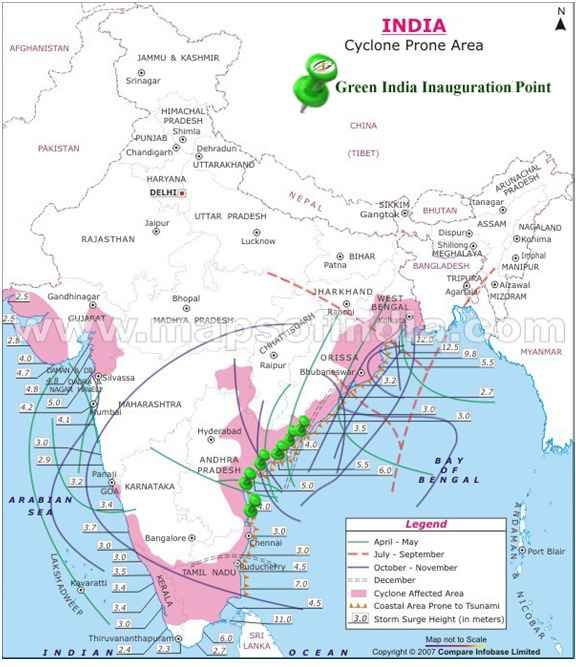 Location of Green Wall Inauguration in  Google Map
PROJECT OUTCOMES:
In the Short term-  this project generates employment and mainly women empowerment.
In the long term, this project reduces the damage caused by heavy rainfall, floods, and tsunamis.
Reduces soil erosion.
Reduce damage that occurs  due to  Cyclones
Citizens of coastal areas are more relaxed than before. 
 Coastal community gets easy access to food, fuel wood, and small timber requirement through sustainable harvesting.
MONITORING & EVALUATION:
Periodically visiting the plantation sites.
Advising volunteers to provide fertility to plants.
Tree Plantation Management Committee will monitor and review the progress of activity undertaken/ completed and proper documentation of the completed projects will be done.