Green India Trust conducted medical camps in consortium with Murali Krishna Trust, Murali Krishna hospital, and Neshna Trust
Why we are passionate about health?
Time and health are the two precious assets that we don't recognize and appreciate until they have been depleted. Now – a –days expenses for the healthcare system are soaring and the poor lack access to necessary care. Health care is a fundamental right that should be offered to all and not be considered a commodity available to those who pay for it. As a result, serving humanity Green India Trust provided free healthcare services to pediatrics, geriatrics, and adolescence and provide free healthcare services. 
Organisational Structure of Medical Camp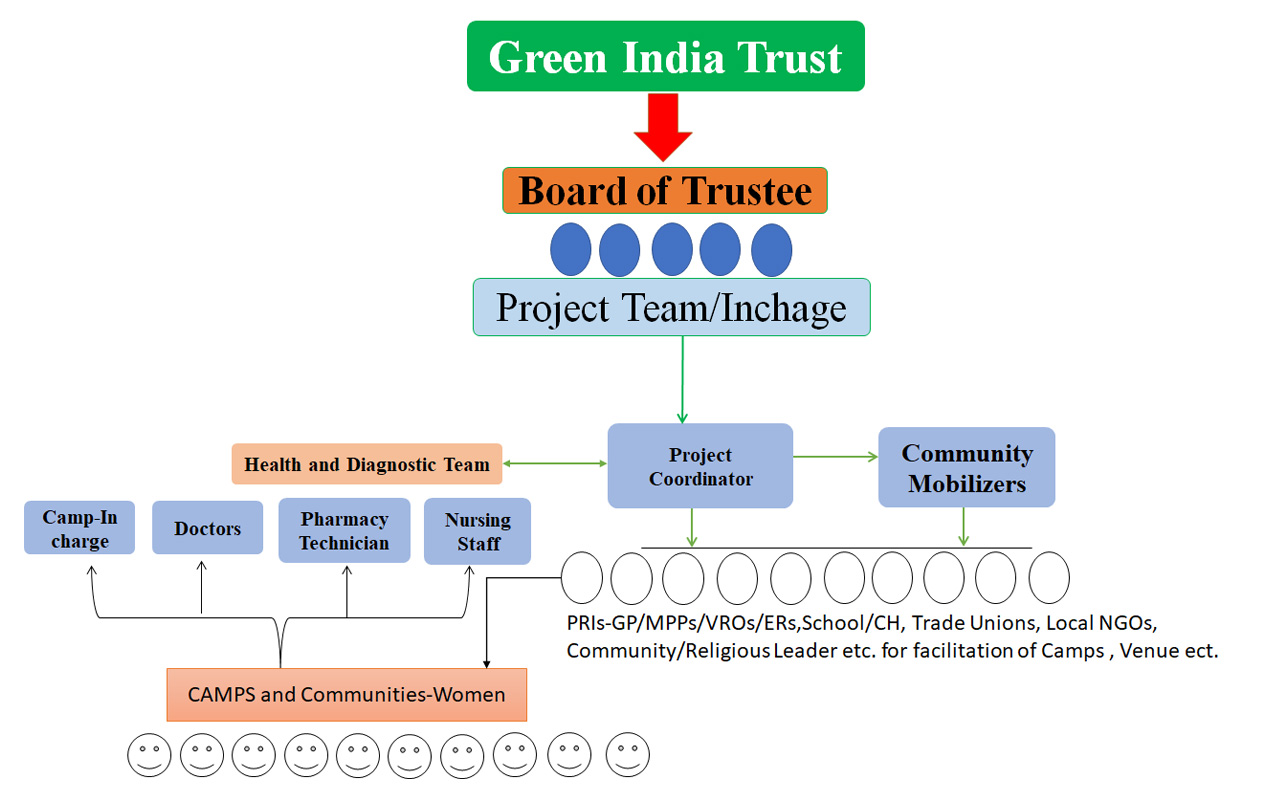 Typical Protocol Followed During Medical Camps
Intimation: Intimation to village sarpanch, VRO (Village Revenue

officer), and Village heads  for their permission on the desired avenue, they will accept our request as we are doing free medical camps which benefit the villagers 

Intimation to Indian Tribal Department in case if the camp is conducted in the tribal area.

Avenue will be at Elementary school or High school or it may be based on the available locality in the village.

Attach one banner to the camp avenue.

Propaganda: Posters on notice boards of the Revenue office and Village administration office, schools, and Mandal office.

Banners at village choultries and door-to-door pamphlet distribution.

Press Announcement ( News/Advertisement )

Mike's announcement via autos and rickshaw.

Team: Minimum MBBS doctor and one specialized doctor, pharmacy technician, Lab personnel and nurses will attend the camp.

 Pharmacist dispenses the medicines and writes the Drug Dispensing form, Sister for checking BP, Weight, and Temperature. Lab personnel checks the Random blood sugar.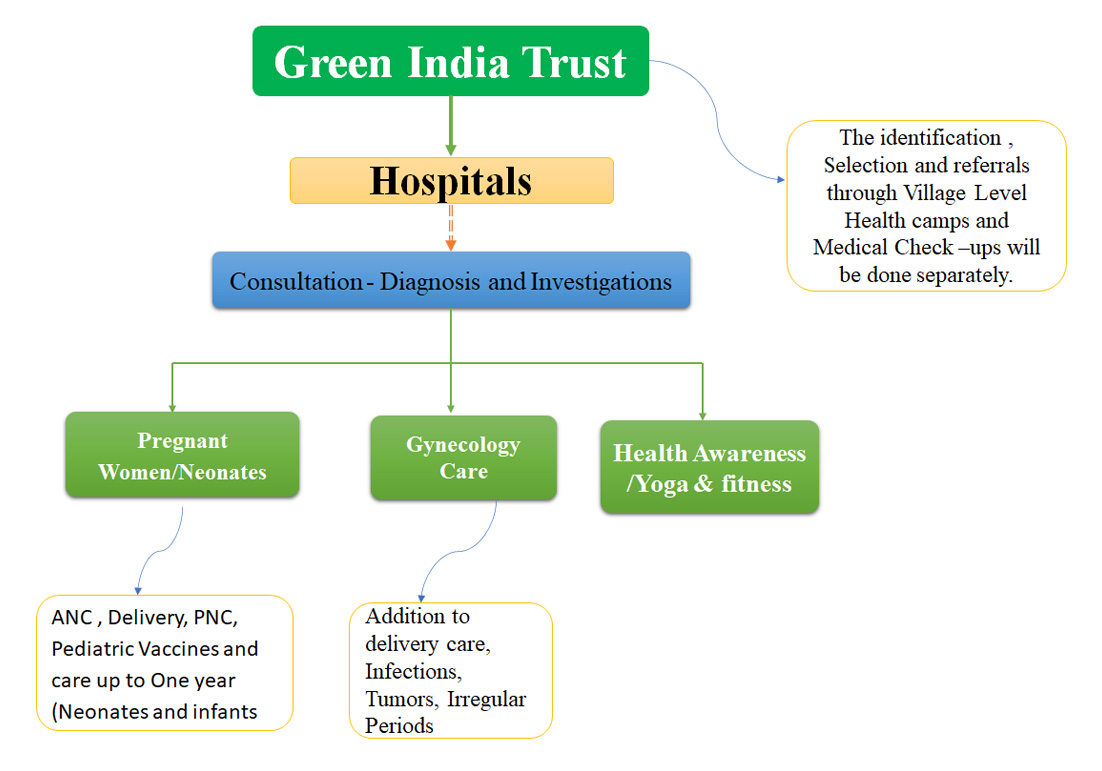 WHAT WE CARRY: Four tables, six chairs with  bed sheets, Medicines, ECG machine, Fetal monitor for specialized pregnancy program, Thermometer, pulse oximeter,BP apparatus, Glucometer, Glucometer strips, and needles
What We Did till Now?
As of now, Green India has conducted nearly 1170 camps with a team of certified physicians, pharmacists, Nursing staff, and lab personnel, in which we have done regular health checkups for blood pressure, and diabetes and specialized treatments are carried out for the poor people if needed. Camps related to General medicine, Gynaecology, and Orthopaedics are done abundantly, succeeded by camps of pediatrics, ensued by ENT and dental. In the camps, our specialists primarily collect the history and regular health check-ups are done, followed by specialized treatment with the help of our doctors and referring the cases that need the surgery to the higher centers.
From 2008 to 2010, we conducted six camps a week, which were effectively managed by our camp in charge. He informs the avenue of the camp to the health care team. These free medical camps become their last chance when most hospitals and clinics lock their doors to the poor, leaving them to perish to infections, trauma, and other health concerns.
From 2011 to date we are conducted regular camps and of that specialized pregnancy, camps are more significant. We have also conducted blood donation camps.
S.No
Academic Year
No of Medical Camps
Doctor Involved
Specialities Involved
1
2005-2006
114
1.Dr. CH.Murali krishna
2.Dr.CH.Veeramma
3. Dr. M.Sudhakar
4. Dr. Vijaya Lakshmi
5.Dr. Y.Vinodhini
6.Dr.S.Rambabu
7. Dr.K.Kavitha Reddy
8.Dr. P.Ravindra babu
9.Dr.K.V.Suneel kumar
10.Dr.G.Venkateswarulu
11.Dr.K.Sumithra Reddy
12.Dr.CH.Hemalatha
13. Dr. S.Ramanaiah
14.Dr.T.P.Naidu
15. Dr.S.N.Raju
16.Dr.R.V.Subramanyam
17.Dr.M.Venkatesh
18.Dr.P.Srinivasatheja
19. Dr.G.Suresh Babu
20. Dr.S.Lavanya
21.Dr.J.Sandhya
22.Dr. k.vineela
23.Dr.K.Sree Ram kumar
24.Dr.K.Asha Rani
Orthopaedics
Gynaecology
Paediatrics
Pulmonology
General surgery
General Physician
Opthamology
Psychiatry
Dental
MBBS
ENT
2
2006-2007
175
3
2007-2008
23
4
2008-2009
19
5
2009-2010
17
6
2010-2011
120
7
2011-2012
38
8
2012-2013
56
9
2013-2014
62
10
2014-2015
21
11
2015-2016
48
12
2016-2017
54
13
2017-2018
30
14
2018-2019
24
15
2019-2020
128
16
2020-2021
31
17
2021-2022
210
Specialized Pregnancy Camps :
Strong awareness creation and health literacy mainly focusing on ignorant, illiterate, and disadvantage-communities of coastal/tribal/vulnerable areas about every aspect of pregnancy
Provide reproductive education to girls and women.
Educate pregnant women on Antenatal care, Pre-Natal care, and Neonatal care. 
Identification of high-risk pregnancies based on their medical/ obstetric history and existing co-morbidities.
Ensuring at least one antenatal checkup for all pregnant women in their second/third trimester referred by a gynecologist helps in improving the quality of care.
Improve the quality of care during ante-natal visits. This includes ensuring provision the of the following services:

Appropriate management of any existing clinical condition such as Anaemia, Pregnancy induced hypertension, Gestational Diabetes, etc.
Identification and line-listing of high-risk pregnancies based on obstetric/ medical history and existing clinical conditions.
Appropriate birth planning and complication readiness for each pregnant woman especially those identified with any risk factor or comorbid condition.

Educating them on nutrition supplements to be taken during pregnancy. Distribution of free medicines especially Iron, calcium, and folic acid necessary during pregnancy.
Health Awareness Camps:
      Apart from the medical camps, we are conducting several awareness programs in schools and rural areas with a specialized team of healthcare professionals. 
Raising health awareness among the community and teaching them to deal with communicable, non-communicable, and sexually transmitted diseases.
Preventive measures against  deadly diseases
Creating awareness of hygiene practices among the women, adolescent girls, and school children, motivating them to use and motivating them to use and maintain sanitation facilities at schools and their community surroundings, and making them understand the importance of keeping the school, home, and village premises clean and thus reduce the incidence of disease.
Awareness of cessation of tobacco and limiting alcohol.
Educating rural women on safe motherhood (Antenatal, Intra natal, and post-natal care) and family planning.
We have reached nearly 75,600 people and created awareness to date ( 30 Dec 2022)
Establishing New Hospital:
Establishment of a Multi-Speciality Community Health Center (Multi-specialty Hospital), Health Education, and Mobile Medical Care Unit Programme. Integrated Approach for Advanced and Affordable Basic Health Care/Treatment, Awareness Creation on Health Issues, Sanitation, Personal Health, Tobacco/Alcohol Effects, and Action/Support Services for Rural Poor through Mobile Medical Unit. Health care covers not merely medical care but also all aspects of preventive care too.